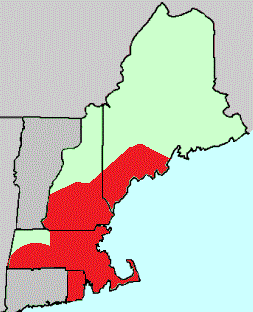 STATUS
There are currently five applicants on the waiting list:

| | | | |
| --- | --- | --- | --- |
| # | Mode | Location | On List Since |
| 1 | DMR | Peabody, MA | 27 November 2016 |
| 2 | FM | Orange, MA | 08 November 2017 |
| 3 | FM | Cambridge, MA | 20 December 2018 |
| 4 | DMR | Richmond, RI | 01 September 2022 |
| 5 | DMR | Charlestown, RI | 02 September 2022 |
In many parts of the NESMC service area, there are no additional two meter frequencies available. This includes all of Central and Eastern Massachusetts, Western Massachusetts within 50 miles of Hartford CT, Southern New Hampshire, Rhode Island, and Southwestern Maine.

You may request coordination for these areas, but most likely you will be placed on the waiting list. The date of your request will be noted. When a frequency is vacated, it is checked against the first party on the list for compatibility and moves down the list until a location where the frequency can work is found.

Important rules about the waiting list:

(1) An entity/individual may hold only one spot in the waiting list at a time. Anyone found to be using subterfuge to get around this rule will have all of their waiting list requests removed.

(2) Any entity/individual found to be operating an uncoordinated repeater on any band will be removed from the waiting list.

(3) Waitlist applicants that have been given construction permits on other bands and have failed to follow through will be removed from this waitlist.

Please note #1: When you are assigned a coordination, you will be expected to put the machine on the air with the parameters in the application within six months. If a site has become unavailable in the time you were waiting, please update the coordination to the new specs.

Please note #2: The wait on this list can be expected to be multiple years.


HOW TO SPEED UP THE PROCESS
In the interest of fairness to all, there is no priority system available to move someone to a higher position on the list. However, you can bypass the list with any of the following options:


Obtain permission from the trustee(s) of an existing system(s) to share the frequency.


Provide analysis that demonstrates an unusual circumstance or arrangement such that a new installation will not interfere with existing systems even though a standard frequency study shows otherwise.


If you are the trustee of an existing system, you can close space a new system on the same frequency provided the second location doesn't interfere with other cochannel repeaters. This is similar to the first option except the other trustee is yourself.


Consider requesting a frequency on a different band. There are some 440 frequencies available, and many on 222MHz and 927MHz.


SILENT REPEATERS
When a NESMC becomes aware of a repeater that is off the air, the trustee is contacted. Many times, there are technical or access issues which prevent the repeater's swift return. As long as the trustee can provide a reasonable and credible explanation for why the repeater is off the air, the coordination will be held.

For repeaters that do not have an explanation, or for which there has been no contact from the trustee, the decoordination process is initiated. See Here. For an off-the-air repeater, a final coordination, regardless of its expiration date, can immediately be moved to the 1-year grace period. After six months, the trustee will be notified of pending cancellation. After one year, the coordination is cancelled and may be reassigned.

If you are aware of any silent repeaters, please notify NESMC and we will investigate.